Leaving Apple & Google: Support /e/OS and get a tax credit! We have added new supported devices!
Support /e/OS and get a TAX CREDIT!
We have added new supported devices! 
NEW: Support /e/OS and get a TAX CREDIT!
Help us free your data from Google! 
/e/OS would be nothing without its vibrant community that helps in different ways to make it grow to offer the best user experience without having your data constantly leaked to Google and other parties. Only this past year your support gave us the opportunity to launch /e/OS v1, to improve your privacy control with new features such as Advanced Privacy, that lets you cut trackers and ads, to offer all Android apps in /e/OS via App Lounge, to grow the number of supported devices to more than 200.
In only a few years /e/OS has become the leading pro-privacy smartphone operating system, confirmed by academic research, and this without sacrificing usability!
Thanks to your contributions, /e/OS can remain independent and implement improvements much faster. Our goal remains the same since day one: let as many people as possible on this planet enjoy life without constant surveillance from the Big Techs!
And we have some great news for  our European donators! From now on, your donation may qualify you for a tax credit!
The reason behind this is that e Foundation is meeting the criteria to qualify as an organization in the public interest.
Practically speaking:
support e Foundation this year

we will have a donation receipt send to you

next year you will be able to apply at your fiscal administration for a tax credit 
The amount of these tax credit can be signifiant in some countries: it can go up to 66% of the donation in tax credit, which means that for a 100 € given to the project in a year, your financial contribution will be 34 € only.
However, please note that Tax credits related to donations are subject to your countries laws, so please check how much you can get in return. We will try to maintain useful information for each country at this page.
We have added new supported devices!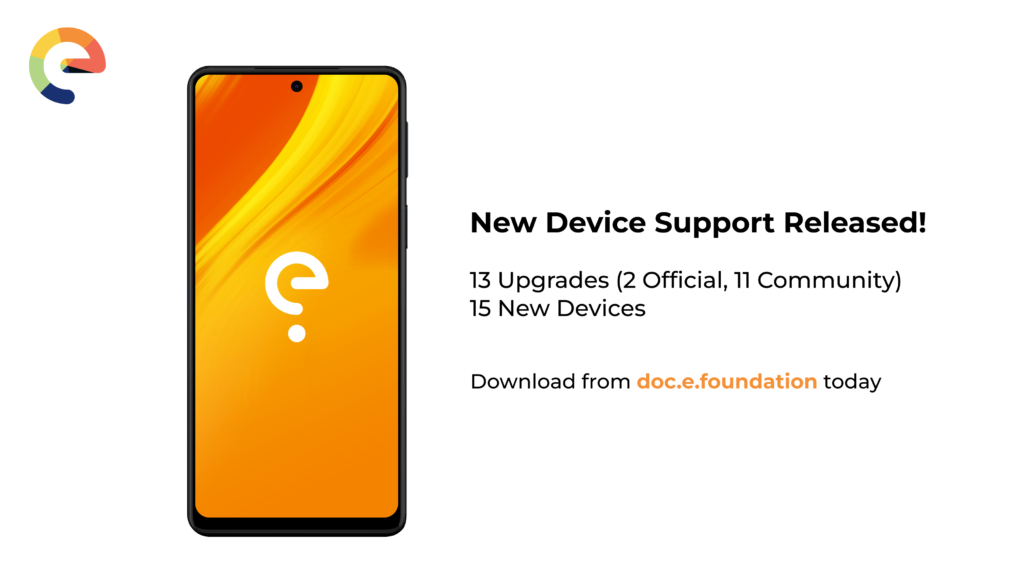 We have great news for you: /e/OS now supports 15 new devices! Which brings the total amount of /e/OS supported smartphone models to 229! 
The newly supported devices are as follows: 
Motorola edge 2021 berlna  
Motorola edge 30 dubai 
Xiaomi Mi 11i / Redmi K40 Pro / 

Redmi K40 Pro+ / Mi 11X Pro haydn 

Motorola one fusion+ liber 
Xiaomi 11 Lite 5G NE / 11 Lite NE 5G / Mi 11 LE lisa 
Xiaomi Redmi 7A / 8 / 8A / 8A Dual Mi439 
Xiaomi Redmi 4A / 5A / [Note 5A / Y1 – Lite] Mi8917 
Xiaomi Redmi 3S / 3X / 4 (India) / 4X / [Note 5A / Y1 – Prime] Mi8937   
Nubia Z17 nx563j 
Nubia Z18 Mini nx611j 
Sony Xperia 1 II  pdx203  
Xiaomi Mi MIX 2S polaris 
Motorola edge 20 pro pstar  
Xiaomi Mi 11 Lite 5G renoir 
Xiaomi Mi 8 Explorer Edition ursa

 
In addition, we have also upgraded 13 of the existing devices to /e/OS S: 
Official:
Oneplus Nord avicii
Fairphone 3
Community:
Motorola moto g7 play channel
Xiaomi Mi 5 gemini
OnePlus 7 Pro guacamole 
OnePlus 7 guacamoleb 
Lenovo Z5 Pro GT heart
OnePlus 7T Pro hotdog 
OnePlus 7T hotdogb 
Xiaomi Mi 5s Plus natrium
Motorola edge s / moto g100 nio
Xiaomi Mi MIX 2S polaris
F(x)tec Pro pro1
User's data privacy and finding alternatives to regain control over our data has never been a more pressing issue than it is today. The timing is great to build something new!
Your contribution is key to the success of an ambitious project like ours!