In 2017, Gaël Duval, a long-term open-source supporter, realized that he was more and more using proprietary software- Apple and Android.
He felt trapped inside those Internet giants' ecosystems – that use personal data to fuel their business models.
Gaël then started to look for alternatives and was pleased to find that many alternatives did actually exist – mobile phone operating systems and various web services such as personal data storage, search, and email. The issue he found was that they were very fragmented.
Then, in a series of articles entitled "Leaving Apple & Google: my /e/ odyssey" (one, two, three), he announced an initiative to build a consistent and attractive offering with all those features. This proposal would be mostly open-source, made from existing bricks, and would protect users from data spying.
Then he started a Kickstarter crowdfunding campaign to fuel early development. The campaign was very successful. The rest is history!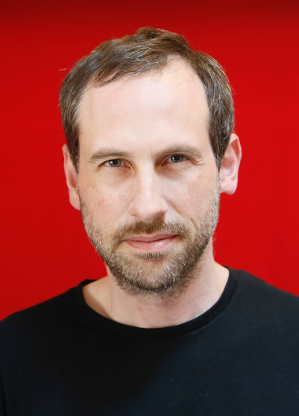 The /e/ mission and manifesto
We make available independent and open source IT infrastructure products & services, with an emphasis on respect for user data privacy, for the benefit of all.
We think that /e/ can have a global, worldwide impact as a major open source project in the public interest. It will help by freeing users from personal data spying and advertising.
/e/ is about freedom and privacy in the digital world.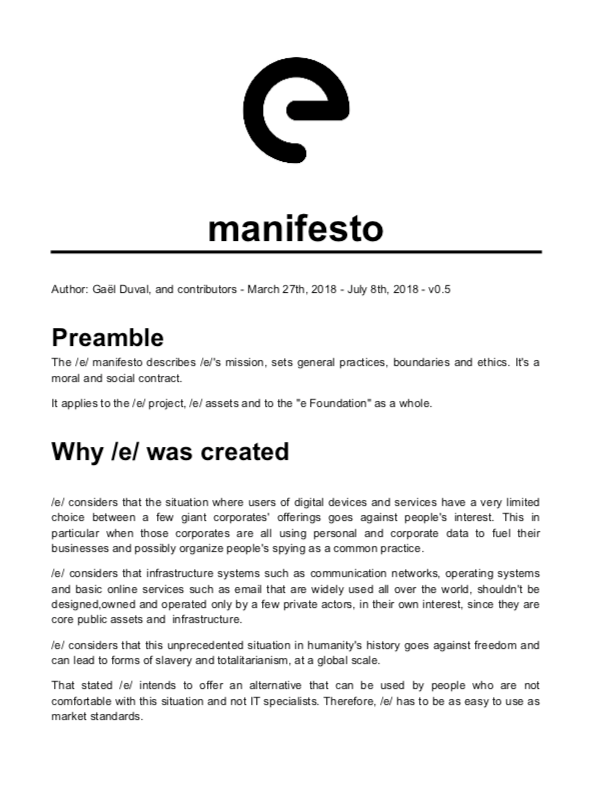 The /e/ team
Our team is made of passionate people from all over the world!
Our team includes both employees, regular contributors and occasionnal contributors:
Gaël: project leader
Alexis: VP Sales & Marketing
Rhandros: designer
Véronique: communication head
Amit: software engineer
Romain: software engineer
Vincent: software engineer
Thilo: software engineer
Griffin: software engineer
Nihar: software enthusiast
Hüseyin S.: software developer
Shawn: infrastructure engineer
Russell: content editor
Gomsi: community officer
Anand: software engineer
Akhil: software engineer
Nivesh: software enginner
Frank: software engineer
Jo: software enthusiast
Matthias: software engineer
Daniel: web designer
Sreeram: token enthusiast
Renuka: software engineer
Atebal & his team: software engineers
Omer: software engineer
Laurent: software engineer
Maik: software security engineer
Nathanaël: translator
Stypox: translator
Alkorismus: translator
Tomas: translator
Malu: translator
Raf: translator
Klaus: translator
Lukas: translator
Paolo: translator
Julien: translator
Victorien: translator
Rui: translator
Steffen: translator
Hüseyin: translator
And thousands of /e/ supporters!
/e/ is in the public interest – support us!