Leaving Apple & Google: Migrate your data from Google cloud to ecloud within minutes! Email alias with your e.email account.
Migrate your data from Google cloud to ecloud within minutes!
Email alias with your e.email account
Migrate your data from Google cloud to ecloud within minutes!
We are often asked how to migrate user data from a Google cloud account to our ecloud solution and we have great news to share. It is likely that many of you still own a Google cloud account with tons of pictures or many files on its drive and you think it is impossible to migrate. 
We have great news for you! In case you were not aware, there is a simple tool to migrate your data away from Google, and it is accessible directly from your ecloud account. 
The Google migration tool within ecloud will allow you to move your contacts, calendar, drive and Google photos in a few minutes. All you have to do is follow the instructions explained in this How To and you will be all set within a few minutes.
In case you want to learn more about ecloud, feel free to check this page.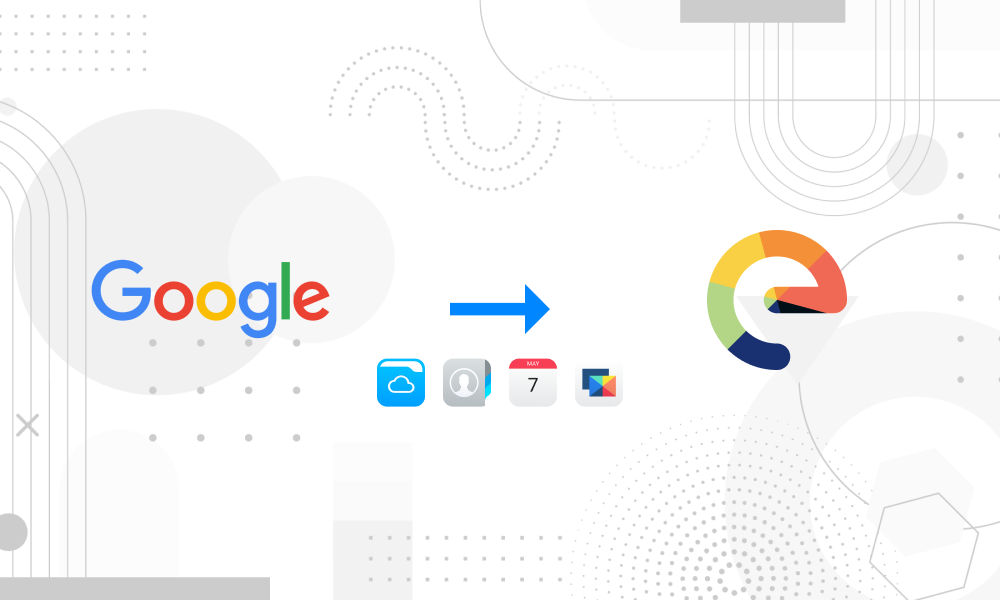 Email alias with your e.email account
We often get questions about enabling alias addresses with our e.email service. 
What is an email alias in the first place, you may ask?
An email alias is a forwarding email address that enables you to share a different email address than your personal and real email address. Say you need to fill a form online to get a quote for your car insurance, but you don't want to share your real email address to avoid spamming or having sold to advertisers. Instead of giving our real email address, you share your email address alias. It is a great way to hide your real email address.
Currently, we don't have a proper alias email feature, although we are working on it and hope to share good news soon. 
Did you know e.email supports a temporary alias already?
Yes, you read correctly. E.email supports the use of temporary alias. The temporary alias feature is very simple. To enable it, you just need to add a plus sign to the end of the address, like 'johndoe+newsletters@e.email'. 
You can use this temporary alias and combine it with a filter to target specific messages, for example, where all mails received at 'johndoe+purchases@e.email' are moved to a specific folder in your inbox.
The syntax is important. Let's take 'johndoe@e.email' as a regular address. For example, 'johndoe+@e.email' is a temporary alias, but 'john+doe@e.email' is not (messages sent to such an address will fail). You can type any letters after the plus sign, such as "johndoe+fsnsfxfawgnj@e.email", and mail sent to that address will still be sent to your regular address.
You can use as many temporary aliases as you want, as long as you use the proper syntax.
User's data privacy and finding alternatives to regain control over our data has never been a more pressing issue than it is today. The timing is great to build something new!
Your contribution is key to the success of an ambitious project like ours!