Leaving Apple & Google: Introducing /e/OS with AOSP 13 for New Devices, Did you order your Murena 2? What's new at murena.com? Fairphone adds /e/OS as an option at fairphone.com
Introducing /e/OS with AOSP 13 for New Devices!
Did you order your Murena 2? Put your hands on the latest Early Birds!
What's new at murena.com? Murena Fairphone 5 sales open and Murena Fairphone 4 special offer
Oh oh… Fairphone adds /e/OS as an option at fairphone.com
Introducing /e/OS with AOSP 13 for New Devices!
Exciting news! Our  team has completed a significant migration, bringing /e/OS to AOSP 13 (T) for a select set of community devices. We are thrilled to extend support for these phones, making /e/OS a great solution to keep older devices alive.  
And we are not stopping here. We're currently hard at work to offer OTA updates for our official devices, ensuring you stay effortlessly up-to-date with the latest features and improvements. So, stay tuned for more exciting updates!
Did you order your Murena 2? Put your hands on the latest Early Birds!
Murena 2, powered by /e/OS, is the first smartphone for everyone with a privacy switch to prevent any snooping.
Thanks to its unique Privacy Switch, you can easily and instantly cut your phone's microphones and cameras, making sure no application can remotely spy on you.But that not all, it also features a second switch, the Disconnection Switch, that stops all network activity and silence all sounds, providing a distraction-free environment. Great for everyone looking for digital detox.
What's new at murena.com? Murena Fairphone 5 sales open and Murena Fairphone 4 special offer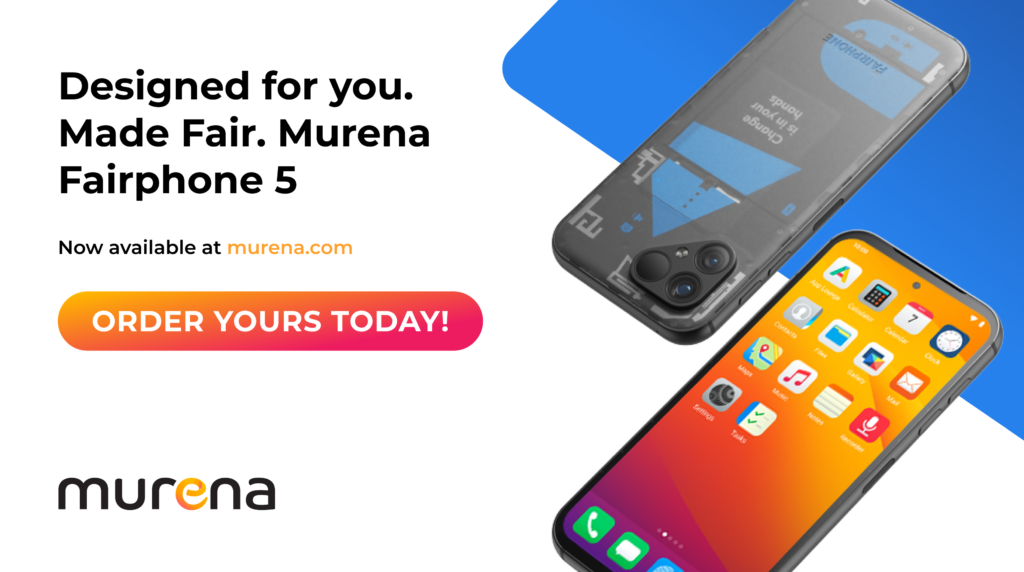 Murena is bringing some great news this week with a special offer for Murena Fairphone 4 till October 29 and the opening of sales of Murena Fairphone 5 in all Europe, Switzerland and the UK. Discover the future of fair and sustainable mobile technology with Murena!
Oh oh... Fairphone adds /e/OS as an option at fairphone.com


Next to having /e/OS available at murena.com on Fairphone hardware, we are thrilled to have reached another significant milestone.
/e/OS is now offered as an alternative option on Fairphone 4 at fairphone.com.
It's an evolution, not a revolution, as Murena continues to sell phones with /e/OS at murena.com and plan to do so for many more years.
Nevertheless, this marks a turning point as we gain industry recognition, with hardware manufacturers recognizing the tangible business value we bring. This validates the ongoing partnership between Fairphone and /e/OS. Together, we are achieving more than we could separately.
Here's to challenging the status quo, embracing innovation, and a future where technology serves people and the planet.
User's data privacy and finding alternatives to regain control over our data has never been a more pressing issue than it is today. The timing is great to build something new!
Your contribution is key to the success of an ambitious project like ours!