Leaving Apple & Google: Easy Installer is now available for 5 more devices, Meet us this week-end at Capitole Du Libre in Toulouse
Easy Installer is now available for 5 more devices
Meet us this week-end at Capitole Du Libre in Toulouse, France
Easy Installer is now available for 5 more devices!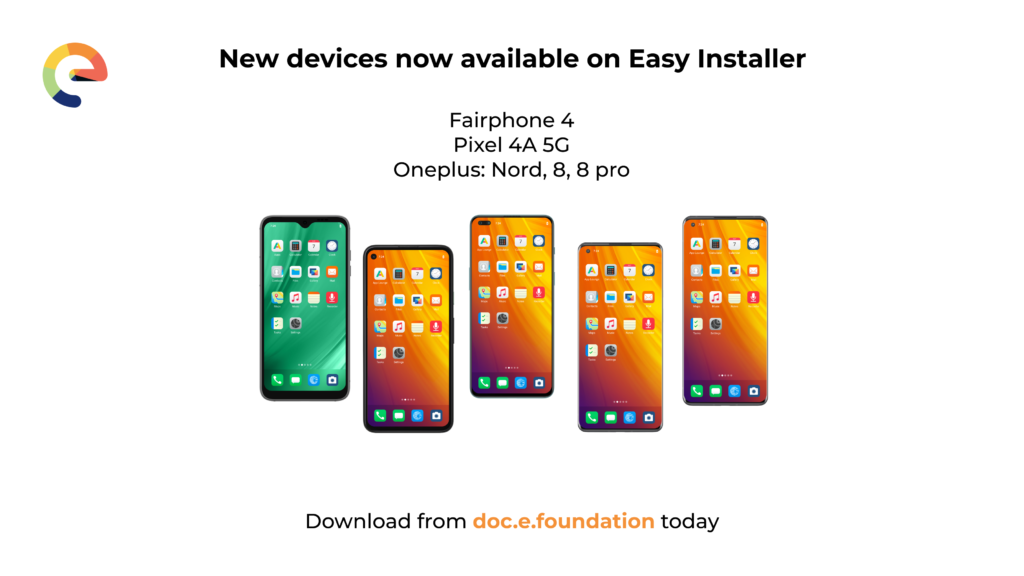 We have just released the /e/OS Easy Installer for 5 new phones!
The Easy Installer is a desktop application that helps to install /e/OS on your phone with a few clicks. No need for command line or other complex processes to switch to /e/OS. Just install the right package depending on your computer, follow the steps on screen, and you'll be all set in minutes. This tool runs on Linux, macOS and Windows OS.
The newly supported devices are:
Fairphone 4
OnePlus 8
OnePlus 8 Pro
OnePlus Nord
Pixel 4A 5G
As a reminder, the /e/OS Easy Installer already supports the following phones:
Gigaset GS290
Fairphone 3
Fairphone 3+
Samsung Galaxy S9 (Exynos only)
Samsung Galaxy S9 Plus (Exynos only)
Samsung Galaxy S8 (Exynos only)
Samsung Galaxy S8 Plus (Exynos only)
Samsung Galaxy S7 (Exynos only)
Samsung Galaxy S7 Edge (Exynos only)
Google Pixel 4
Google Pixel 4XL
Google Pixel 4a

Oneplus 7T

Oneplus 7 pro

Teracube 2e (2021)
You can find the Easy Installer guide as well the links to download in this page.
Meet us this week-end at Capitole Du Libre in Toulouse, France
Our team will be at Capitole Du Libre, the annual meeting centered around Open Source, taking place in Toulouse on November 19 & 20, 2022!
We will be present at the booth eFoundation. If you are attending this event, feel free to pass by and speak privacy with us!
For the most motivated, we can even help you install /e/OS on your phone. Please, check if your phone is compatible with /e/OS in this list and come see us at the booth. Ideally you can also grab your PC with you (Windows or Linux) and make sure to have a backup of your data (files, contacts, SMS/MMS, eventually app data etc.), as the phone will evidently be reset.
In addition, you can meet Gaël Duval, our founder, at the panel discussion on November 19 at 7 p.m. and assist at his conference around /e/OS & Murena on November 20 at 10:30 a.m.
We are looking forward to being there and meeting you!
User's data privacy and finding alternatives to regain control over our data has never been a more pressing issue than it is today. The timing is great to build something new!
Your contribution is key to the success of an ambitious project like ours!