Leaving Apple & Google: do you know /e/cloud?
Why /e/cloud?
What will you find in /e/cloud?
Our commitments to you
Need more space? Check our paid plans
/e/ is not only a great degoogled operating system, it is also a great set of online services, called /e/ cloud.
We felt that if we stopped at the OS, we were leaving many users without options for their emails and cloud storage, but to use proprietary solutions like Google Docs or Microsoft Office 365. So our efforts to bring people to a more privacy-friendly environment would be in vain. Here is where /e/cloud comes in.
/e/cloud is your personal email account, your agenda and contacts, your drive on the cloud and your online office suite, all combined in one single service, simple to use. /e/ cloud is powered by proven open source like NextCloud and OnlyOffice. With 35,000 active users and counting, /e/ cloud has you covered.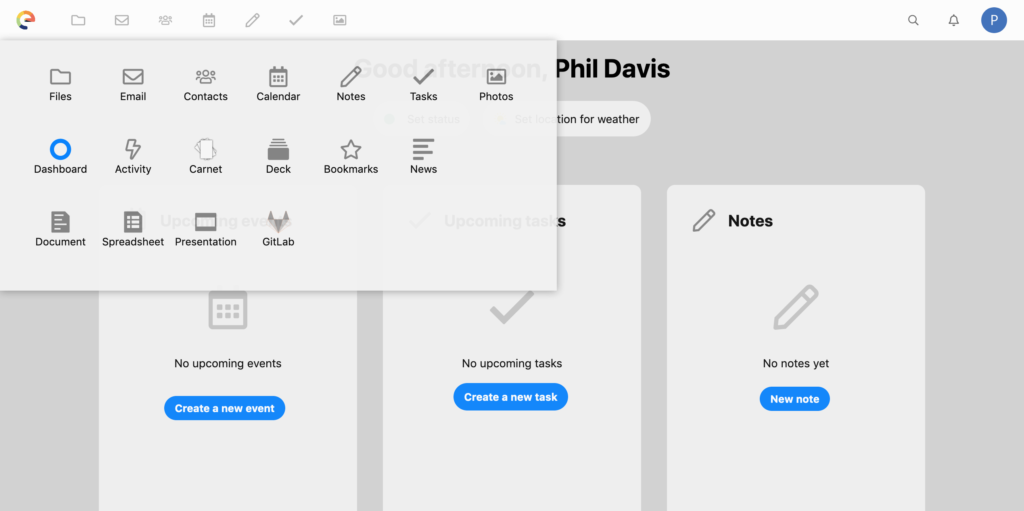 It is built on the same privacy by design principles as /e/OS. We don't scan your data, we don't log your app usage, we don't sell your data, we don't use ads in our online services.
Clearly, /e/cloud is one of many alternatives available today, but it is the only one that integrates seamlessly with /e/OS.
And while /e/cloud has been developed as an extension of /e/OS, to let you have everything you need to get things done on the go from on your phone, this online suite can also be used without /e/OS.
We would love for you to try it and join the family.
What will you find in /e/cloud?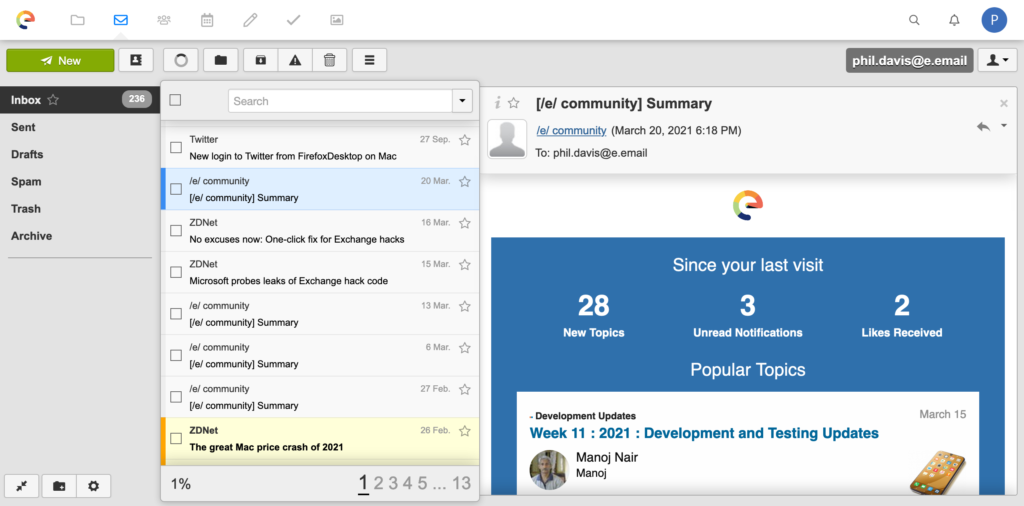 Your personal email account
With /e/cloud, you have your own personal email ID ending in @e.email. We do not scan your emails or include ads anywhere.
Your e.email account is accessible directly in /e/OS, or via an email client like Thunderbird or from your web browser at https://ecloud.global
Every /e/cloud account comes with 1 GB of free storage space! We also have paid plans if you need more storage space.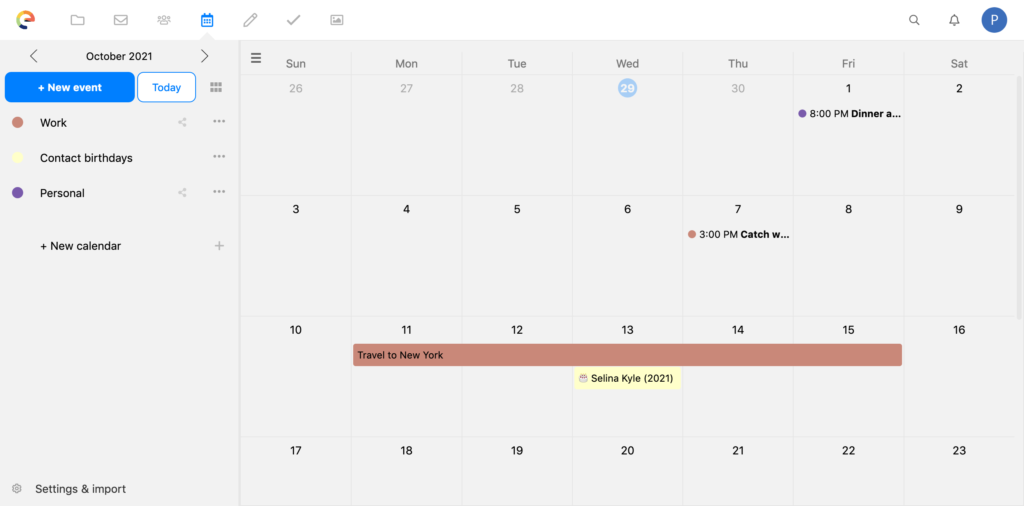 Your agenda and contacts
Your agenda on /e/cloud allows you to create specific personal and professional schedules, set up meetings and invite contacts, share calendars with them, and more.
Your contacts on /e/cloud allow you to stay organized and up to date on all of your devices. They can also be synchronized to your smartphone from the server with no extra hassle.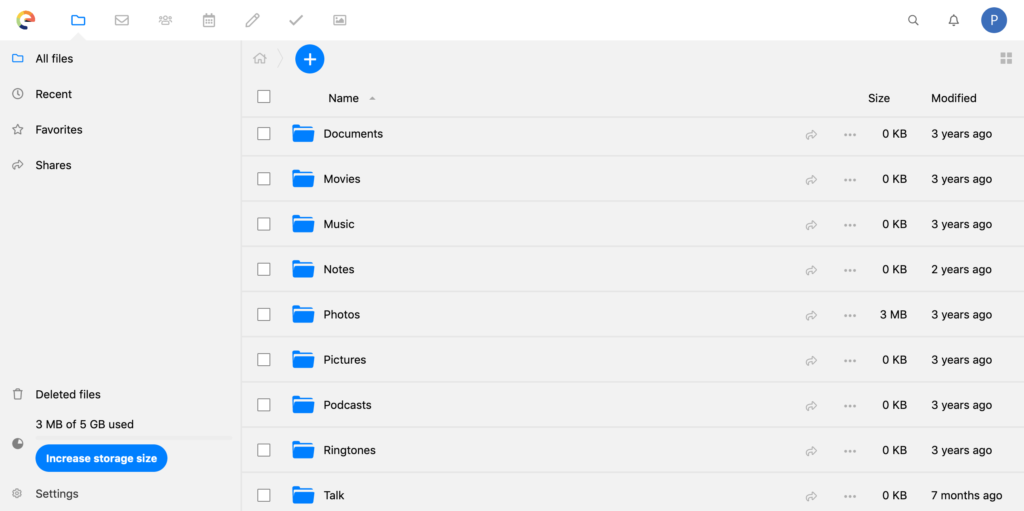 Your drive in the cloud
/e/cloud comes with a secured storage to access your files, sync and backup files from your phone or conveniently share with anyone you want.
Your files are seamlessly synced and always available to you, on-the-go with your smartphone or through the browser of your choice.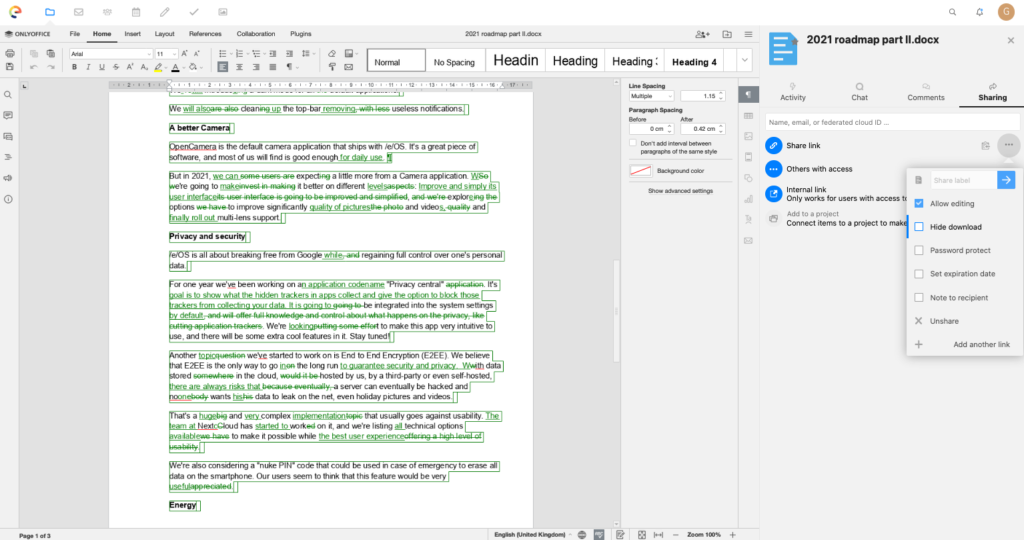 Your online office suite
/e/cloud is also a powerful suite of online tools to create, edit and share documents, spreadsheets and even presentations slides.
Powered by OnlyOffice, it is compatible with MS Office formats and is a great alternative to Google Docs or Office 365.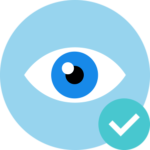 We do not read or scan your data. We do not use ads in our online services. We don't sell your personal data. Period.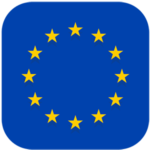 Your files are encrypted with server-side-encryption on our servers, located in Europe.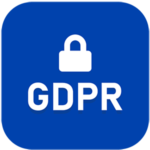 We are fully compliant with GDPR.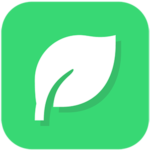 We aim to limit our footprint so all our /e/cloud servers are powered by energy from renewables sources.
What are you waiting for? Every /e/cloud account comes with 1 GB of free storage space!
Need more space? Check our paid plans
You will be able to increase your personal storage space of your e.email account by subscribing to one of our paid plans directly from your account.
We offer different options for payments: billed in advance on a monthly or yearly basis depending on the selected plan.
Our paid plans start at 1.99€ for 20GB per month, to 12.99€ for 1TB per month.
What's next for /e/cloud?
We have a long list of features to come to /e/cloud in the coming months too: end-to-end encryption, easy migration from Google Drive, more apps, etc…
User's data privacy and finding alternatives to regain control over our data has never been a more pressing issue than it is today. The timing is great to build something new!
Your contribution is key to the success of an ambitious project like ours!