Leaving Apple & Google: A new smartphone with /e/OS is now available in the USA and Canada!
Dear friends, supporters and privacy fans, 
Our goal is to enable the widest amount of people to regain control over their data, wherever they are across the globe. And today, we are truly excited to let you know that US and Canadian customers can now own a great smartphone with /e/OS: the Murena Pixel 5 refurbished. 
The device is compact, completely deGoogled, compatible with 5G networks and  the largest carriers in the USA (T-Mobile, AT&T and supported MNVOs).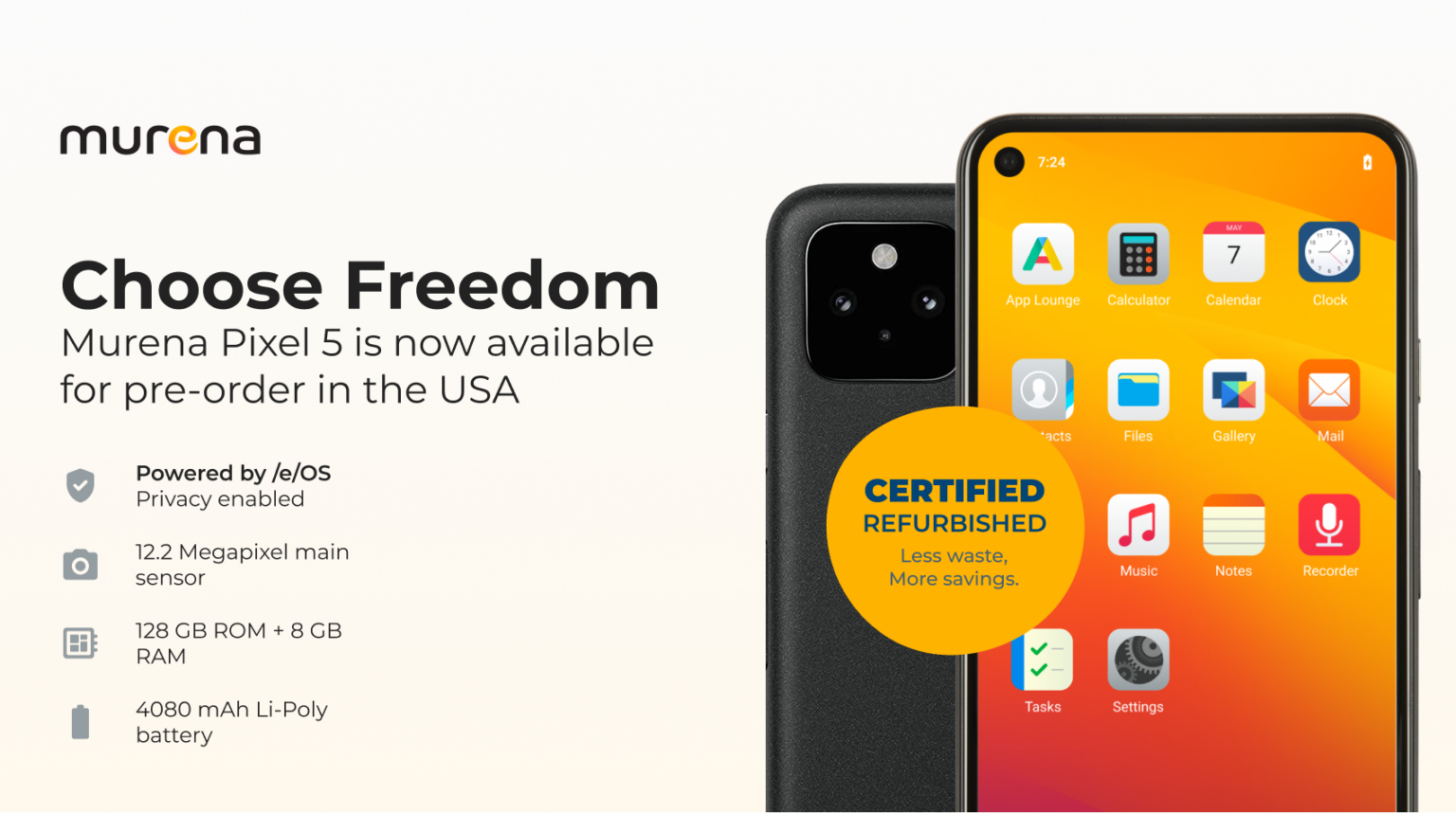 Not only a powerful phone, this is the most compact model available at murena.com. Boasting a 6-inch OLED display which makes it very comfortable to use.
The game-changer? It's 5G-ready and fully compatible with T-Mobile, AT&T, and several MVNO networks, ensuring seamless connectivity across the USA.
What is more, choosing the refurbished phone helps you to save money and support the circular economy. Like all refurbished devices proposed by Murena, Murena Pixel 5 goes through a rigorous process prior to sale: cleaned, technically checked, it's graded A+, with no visible wear and tear. It comes with one year warranty. 
If you're seeking a deGoogled phone, running /e/OS, a compact form factor, high-performance 5G connectivity, then look no further than the refurbished Murena Pixel 5!
This smartphone will start shipping early July.
***
Oh, wait! If you reside in Europe, Switzerland, and the UK, this phone is already available with limited quantities.
Register to the waitlist if it is out of stock, Murena expects more inventory early July!
User's data privacy and finding alternatives to regain control over our data has never been a more pressing issue than it is today. The timing is great to build something new!
Your contribution is key to the success of an ambitious project like ours!